At DtEC we design packed columns with a wide range of structured packing types, which are supplied in full range of surface areas and materials.
Materials
| | |
| --- | --- |
| Metal | e.g. 410S, 304/304L, 316/316L, 904L, Alloy C276, Alloy 400 |
| Plastic | e.g. PPL, PVDF & PTFE |
| Ceramic | |
Grid Structured Packing
F-Grid Type 25A Grid Structured Packing
Column Diameter 2438mm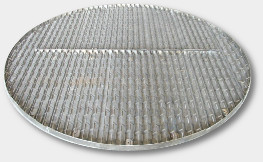 DtEC grid structured packing is supplied in high efficiency or high capacity versions either in 54mm or 70mm layer heights:
F-Grid Type 25A
(shown here)
F-Grid Type 2
(shown below)
F-Grid Type 3
Type 2 gives the highest capacity due to the small triangular projections providing superior liquid drainage and low pressure drop.
Type 3 has rectangular projections which promote turbulence as the vapour and liquid pass through thus providing the highest efficiency.
The capacity of Type 25A is similar to Type 3. The efficiency is lower than Type 3 but greater than Type 2.
Grid structured packing is widely used to provide direct contact heat transfer in fouling duties such as:
Crude Tower Pump-Around
Vacuum Tower Pump-Around
Cracked Gas Quench Towers
FCC Main Fractionator Slurry Pump-Around
All types of DtEC grid structured packing eliminate horizontal planes where liquid and solids can stagnate. Thus the grid packing has a very high resistance to fouling.
F-Grid Type 2 High Capacity Grid Structured Packing

Grid structured packing is usually supplied in a thickness of 1.5mm and/or 2mm and is constructed in modules 1524mm x 406mm. Type 2 and 3 layer height is 70mm whilst type 25A layer height is 54mm.
DtEC grid structured packing due to its high structural strength and very open construction can withstand extreme upset conditions and large vapour surges without damage.