Pall Rings
Pall Rings in PPL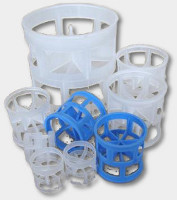 Pall rings are an industry standard 2nd generation random packing. This shape is the most common both in plastic and metal.
Compared to raschig rings, pall rings offer significantly more capacity (throughput) and lower pressure drop. The efficiency is also greater.
Pall Rings
Nominal Size
in.
⅝
1
1½
2
3½
Metal
Surface Area
m2/m3
340
207
132
102
59
Packing Factor
m-1
230
177
144
86
56
Plastic
Surface Area
m2/m3
322
190
122
98
65
Packing Factor
m-1
318
186
119
77
45
Saddles
Saddles in Ceramic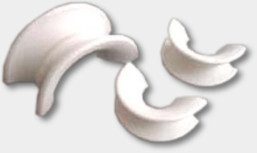 Saddles are also a 2nd generation random packing and were originally developed in ceramic material as an improvement to raschig rings, giving lower pressure drop and better liquid distribution.
In ceramic material the saddle shape is still the most popular, but in metal or plastic they offer no significant advantages compared to pall rings.
Saddles
Nominal Size
in.
½
1
1½
2
3
Ceramic
Surface Area
m2/m3
620
260
190
120
90
Packing Factor
m-1
656
330
170
131
72
Plastic
Surface Area
m2/m3
187
92
65
Packing Factor
m-1
125
79
52