Hold Down Grids (Bed Limiters)
Model 310 Bed Limiter for Random Packing
3810mm Ø Seawater Deaeration Column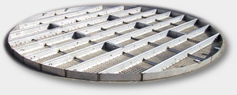 For columns where pressure or flow surges can occur across a bed of random packing, a packing hold down grid (bed limiter) is recommended.
The hold down grid is made from a wire mesh (or expanded metal) screen attached to an annular frame. Free area for vapour and liquid flow is normally greater than 85% of the column cross sectional area.
For small columns one piece construction is used (Model nos. 300 & 301). Segmental construction is used for large diameter columns (Model nos. 310 & 311).
For random packing beds:
Perforated plate or mesh type
Separate or integral with liquid distributor
Plastic or metal construction
For structured packing beds:
For catalyst beds: