Molecular Sieve Vessels
The internals for a molecular sieve vessel are very similar to a downflow reactor. A typical arrangement is shown below.
Inlet & Outlet Baffle Baskets
DtEC provides 3 types of inlet & outlet baffle baskets:
Slotted - Plain Type
Slotted + Mesh Type
Wedge Wire Type
Floating Mesh Screens
Floating mesh screens are used as an effective and economic divider between the different media layers.
The screen is usually made of overlapping segments tied together inside the vessel using tie wire. The segments are cut oversize relative to the vessel diameter to ensure sealing at the periphery.
Molecular Sieve Support Grid - Model 161
Gas Dehydration Vessel - Ø 2600mm
MOC - Carbon Steel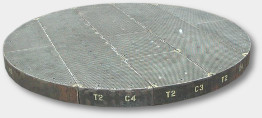 Molecular Sieve Support Grids
The DtEC range of designs for molecular sieve support grids is the same as for catalyst beds in reactors:
Lattice Bar + Perforated Screen Type
Lattice Bar + Mesh Screen Type
Wedge Wire Type