Ceramic Balls
Inert Ceramic Balls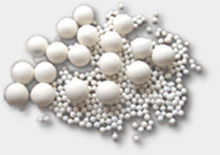 DtEC inert ceramic balls are widely used as an intermediate support for:
catalyst beds
molecular sieve beds
activated alumina beds
A range of nominal sizes are supplied from ⅛" (3mm) to 2" (50mm).
They offer maximum resistance to erosion and attrition thus minimising risk of catalyst contamination. They have a superb ability to withstand extreme thermal shock without breaking and are capable of withstanding rapid depressurisation whilst maintaining their integrity. They also have superior impact resistance.