Replacement Trays
Our SPS service will also identify any replacement trays that are required and the associated delivery and cost implications.
Replacement trays can be purchased prior to the shutdown or alternatively on an Emergency Purchase Order basis during the shutdown.
Whatever the tray type and whoever the original equipment manufacturer , we design, manufacture and install equivalent replacement trays:
Sieve Trays

Bubble Cap Trays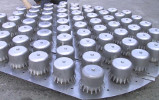 Dual Flow Trays
Baffle Trays
Disc and Donut Trays
Sieve Trays
Valve Trays

Fixed Valves
Movable Valves:

Round (Standard)
Rectangular
Cage and Disc

Bubble Cap Trays

Slotted Type
Un-Slotted Type

Tunnel Cap Trays
Proprietary Trays
Replacement trays supplied by DtEC are guaranteed to have equal or better performance and will be delivered on time.
FXV30 Valve Trays

FXV60 Valve Trays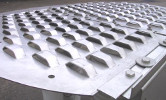 STD Valve Trays

NCD Valve Trays

RMV60 Valve Trays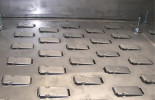 RMV120 Valve Trays