Ceramic Honeycomb Packing
Ceramic Honeycomb Packing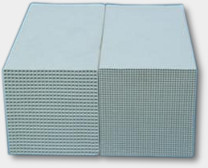 This type of packing is supplied for Regenerative Thermal Oxidisers (RTOs). It is also used as a support for a catalyst bed or a bed of random ceramic saddles.
An RTO is an industrial process for the treatment of contaminated air streams by incineration (oxidation) . Such systems provide a highly efficient and cost effective method for the removal of volatile organic compounds (VOC) and other hazardous air pollutants.
In an RTO system, ceramic material is used to provide a "heat sink" whereby heat is absorbed from the exhaust gas which then is used to preheat the incoming gas stream. High energy efficiency, approximately 95%, is achieved by recovering and re-using the excess heat energy which is created during the combusting of organic materials.
Ceramic honeycomb packing is normally supplied in porous cordierite material. It is also available in other materials such as high alumina or porcelain.
No.
Material
Model
Channel Quantity
Wall Thickness mm
Surface Thickness m2/m3
Weight kg
Applications
1
Porous Cordierite
150*150*300
60*60
0.5
1335
4.6
Regenerative Thermal Oxidisers
150*150*300
50*50
0.7
1010
5.2
150*150*300
40*40
0.7
828
4.4
150*150*300
25*25
1.0
547
3.5
2
Porous Cordierite
100*100*100
40*40
0.8
1062
0.8
Heat Exchange
100*100*100
26*26
1.0
749
0.8
100*100*50
40*40
0.8
1062
0.8
3
Porous Cordierite
100*100
80*80
0.25
2544
0.6
Catalyst Support
125*100
80*80
0.25
2140
0.9
150*80
80*80
0.25
1842
1.2