Wire Gauze Structured Packing
For difficult separations requiring a very high number of stages wire gauze structured packing is used which is typically supplied in the following specific surface areas:
500 m2/m3
750 m2/m3
1000 m2/m3
1200 m2/m3
The key advantage of wire gauze structured packing is the high separation efficiency even at very small liquid loads along with its low pressure drop and small liquid hold-up, making it very suitable for distillation of thermally sensitive products.
M-Pak Type A3-500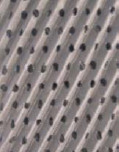 Typical applications are for the distillation of:
Fine Chemicals
Isomers
Fragrances
Food Additives (Flavours)
Fatty Acids & Alcohols
Plastic Monomers
Vitamins
M-Pak 750Y Structured Packing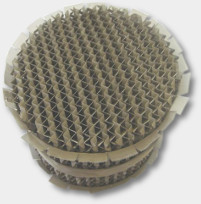 Wire gauze structured packing is not suitable for fouling services and strongly corrosive media.
Wire gauze structured packing can be manufactured in any material that is capable of being drawn into wire. It is available in a full range of metals and plastic.